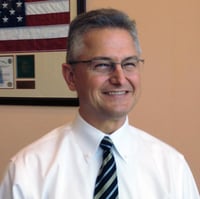 EAST SYRACUSE, New York – July 07, 2021 – DUMAC Business Systems, Inc., a leading solutions provider of point-of-sale software, hardware, and equipment for the grocery/supermarket and the convenience fuel retail industries, announced today that Steve Methvin has joined the team as Vice President Product Development.
Steve will lead the product development and integration teams and be accountable for all aspects of DUMAC's Intellectual Property, including the RORC® Product Suite, licensed product interfaces, and integrations. Steve will be responsible for the strategy, implementation, and management of DUMAC's overall product vision and roadmap and supporting the organization's strategic goals as a member of the leadership team.
"We are thrilled to welcome Steve to DUMAC and in the product development leadership role," said Mr. Howard McCarthy, president and chief executive officer at DUMAC. "We have had the opportunity to work closely with Steve over the past 14 years while he was with Bozzuto's, one of our premier warehouse partners. With his vast experience and his integrity, we are delighted to have such a strong product leader join us who is also focused on innovative technology and understands the importance of delivering the best quality support for our customers."
"With the many years of mutual respect garnered from working together, I am excited to be joining DUMAC in this position," stated Mr. Methvin. "DUMAC's commitment to both their team members and customers was a driving force in my decision."
With an impressive 30 years of retail operations experience, Steve began his career in the grocery business working in various positions at local community retailers, including Market Basket, Winn Dixie, and Kroger stores. Steve expanded his experience when he joined Ahold USA in 1990, where he focused on help desk support services, technical training, and retail store technology systems for the company.
Steve most recently served as Vice President of Retail Technology and eCommerce for Bozzuto's, Inc, a total service wholesale distributor to over 1000 independent food retailers throughout New England and the mid-Atlantic areas. Steve successfully managed the launch and implementation of several new products throughout his career with Bozzuto's. Through progressive management positions, Steve worked to align the Retail Technology team, and under his direction, the team developed innovative product and e-commerce solutions for independent retailers and warehouses to improve the in-store and digital customer experience through automation while maintaining the highest data security integrity.
About DUMAC Business Systems, Inc.
DUMAC Business Systems, Inc. (dumac.com) is a leading solutions provider connecting point-of-sale software, hardware, and equipment through professional services for the grocery/supermarket and the convenience fuel retail industries. As a third-generation, family-owned and operated business, DUMAC has grown since its inception in 1952 and operates from corporate offices in Syracuse, NY with branch offices in Massachusetts and Oklahoma. DUMAC employs 200 team members across 27 states with over 75% of team members explicitly dedicated to in-house software development, customer service, and support. ®RORC and the RORC logo mark are registered trademarks of DUMAC Business Systems, Inc.
For More Information, Contact:
Howard McCarthy
President And CEO
DUMAC Business Systems, Inc.